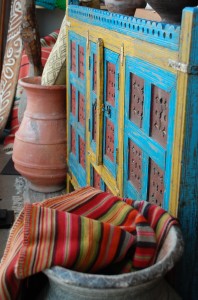 antiques           modern           ethnic
Hot Moon Collection explores the world with reference to a diverse ethnic art collection, timeless antiques, exotic vintage textiles, small unique treasures from the owner's many travels, along with hand selected designer clothing and jewelry. With her bohemian chic aesthetic, Gaby with her two above-standard poodles, lets us experience the culmination of years of collecting.  Blessed with a fine eye and a wandering spirit, she has amassed treasures from across the globe; from flea markets, city galleries, country antique shops, and obscure villages. Her style is prevailing; visit her shop and discover exceptional rarities.  
Elizabeth Gold, textile collector says, "It's a modern antique store, with the chance to find that perfect thoughtful find. I love textiles and what a marvelous collection."
"I look for form, patina and history, these are the ingredients of Hot Moon."   says an avid customer.
"Tabletop items such as Amish cutting boards and Italian glassware, as well as vintage pieces such as the German pottery line Ruscha, all add up to what Gaby, a lifelong traveler, said is a culmination of her quest to find artists and manufacturers that are all unique. Though the selection isn't huge, the shop gets credit for gifts- think newlyweds, party hosts or yourself – that you haven't seen a million times."          LA Times, Alexandria Abramian-Mott.
See what LA Times has to say about Hot Moon Collection
310.455.3022
we are now open 24 hours 7 days a week online or by appointment